Stay Connected With No Contracts Unlimited Plans
Plans that fit the way you 'fone.
No matter what your budget, Tracfone has customized plans that fit your needs.
Frequently asked questions
Find answers to common TracFone questions.
The TF Unlimited Plans are only for smartphones. They offer unlimited talk and text for 30 days with a set amount of high-speed data. Unused data will not expire if the service is active and in use with one of our Unlimited Talk & Text plans.
You will keep your current benefits. None of it will be lost. Also, the current expiration date will be extended by 30 additional days when you add the new Unlimited Talk & Text plan. You can use your previous benefits once the Unlimited Talk & Text plan expires.
You can refill your service with an Unlimited Talk & Text plan or any other plan you want. If you have a previous balance, you will automatically begin to use it.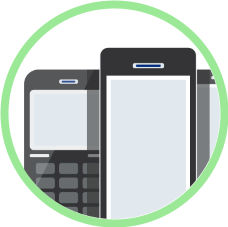 1.
Keep (or switch!) your phone
2.
Activate your service
3.
Refill your service