TFSAS124DCR_P#TFSAS124DCR
Samsung Galaxy A02s - RECONDITIONED
Samsung Galaxy A02s - RECONDITIONED
{{migration-desc}}
{{smartPay-price}}
price is #priceDollar dollar and #priceCent cents
smart pay logo
Samsung Galaxy A02s - RECONDITIONED
Samsung Galaxy A02s - RECONDITIONED
{{migration-desc}}
Approved For {{smartPay-price}}/mo #term Monthly payments
price is #priceDollar dollar and #priceCent cents
Was priced at #listPriceDollar dollars and #listPriceCent cents now priced at #priceDollar dollars and #priceCent cents
Retail Price
This item is for pre-order only.
Ships by release date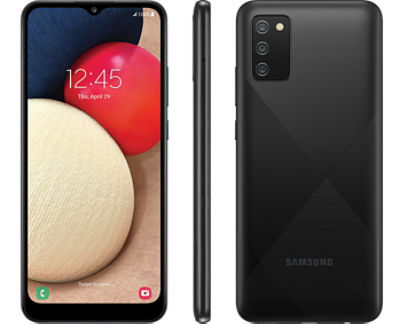 More Features
When you're on the go, reliability is clutch. Galaxy A02s has you covered.
Galaxy A02s' expandable memory lets you hold on to more of what you love.
Snap and share with ease, thanks to Galaxy A02s' versatile four-lens camera system.
Galaxy A02s' battery outlasts your morning cup of coffee - and your afternoon one too.
Enjoy a bright and bold viewing experience on a crisp and colorful 6.5'' HD+ Infi nity-V display.