TFAPI6SC32GYV2R.1_P#TFAPI6SC32GYV2R.1
{{migration-desc}}
{{smartPay-price}}
price is #priceDollar dollar and #priceCent cents
smart pay logo
{{migration-desc}}
Approved For {{smartPay-price}}/mo #term Monthly payments
price is #priceDollar dollar and #priceCent cents
Was priced at #listPriceDollar dollars and #listPriceCent cents now priced at #priceDollar dollars and #priceCent cents
Retail Price
This item is for pre-order only.
Ships by release date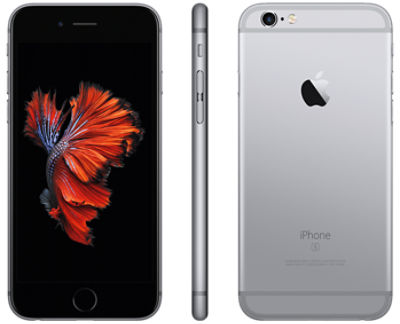 More Features
Get 64-bit desktop-class performance in the palm of your hand. The A9 chip and embedded M9 motion coprocessor deliver fast loading speeds, optimize battery life, and enhance fitness tracking.
Preserve the moments that matter in sharp detail and Ultra HD 4K videos. Live Photo brings images to life, and burst mode lets you capture fast-paced action in a series of photos.
Stay connected to the largest, most dependable networks in America with lightning fast 4G LTE speed. Wi-Fi lets you connect without using data.
Enjoy photos, apps, games, and more in brilliant clarity.
This powerhouse operating system delivers smooth performance while you browse, play, and stream. Enhanced security features, like two-factor authentication and a fingerprint sensor, protect your data.