TFSAS515DCR_P#TFSAS515DCR
Samsung Galaxy A51 - RECONDITIONED
Samsung Galaxy A51 - RECONDITIONED
{{migration-desc}}
{{smartPay-price}}
price is #priceDollar dollar and #priceCent cents
smart pay logo
Samsung Galaxy A51 - RECONDITIONED
Samsung Galaxy A51 - RECONDITIONED
{{migration-desc}}
Approved For {{smartPay-price}}/mo #term Monthly payments
price is #priceDollar dollar and #priceCent cents
Was priced at #listPriceDollar dollars and #listPriceCent cents now priced at #priceDollar dollars and #priceCent cents
Retail Price
This item is for pre-order only.
Ships by release date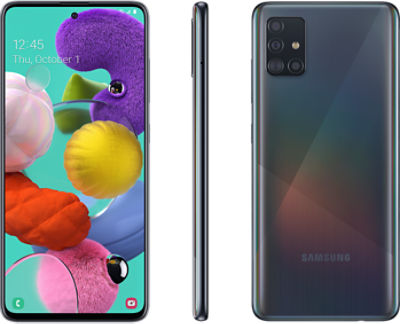 More Features.
Scroll, snap and share with a fast charging battery that retains power throughout the day.
Capture pro-level photos with the tap of a finger. From epic landscape shots and dramatic portraits, to macro angles that reveal intricate textures and detail, this impressive quad camera has a lens for whatever inspires you.
A camera for any occasion - Capture imaDive into edge-to-edge color with an expansive 6.5'' Infinity-O Display featuring a Super AMOLED screen that brings cinematic clarity right to your fingertips.ges in their entirety, shoot vibrant low-light photos, and take flattering selfies.
Take remarkably smooth video of fast-moving action in crisp, UHD quality. Its top-notch stability makes photos and videos look super smooth with minimal blur.