TCL A3
TCL A3
{{migration-desc}}
{{smartPay-price}}
price is #priceDollar dollar and #priceCent cents
smart pay logo
TCL A3
TCL A3
{{migration-desc}}
Approved For {{smartPay-price}}/mo #term Monthly payments
price is #priceDollar dollar and #priceCent cents
Was priced at #listPriceDollar dollars and #listPriceCent cents now priced at #priceDollar dollars and #priceCent cents
Retail Price
This item is for pre-order only.
Ships by release date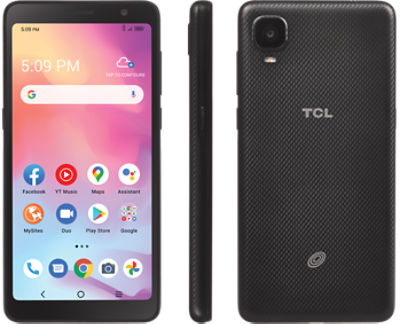 More Features.
The TCL A3 features a dedicated Google Assistant button, so you can get things done and find answers on the go, even faster. Press the button on the left once and your Assistant can help you send emails, open apps, or get directions, using just your voice.
Take sharp pictures with the 8MP rear camera and record steady videos in high definition. The 5MP selfie camera with Portrait mode allows you to share stylish portraits with a blurred background effect.
The large 3000 mAh battery with Smart Manager optimization can easily handle your daily demands with more than 14 hours of mixed usage in a single charge. A powerful Octa-core processor provides a smooth multitasking experience, while Face Unlock gives you quick access to your phone.
The TCL A3 intelligently optimizes the brightness level according to the environment light so you can enjoy vibrant visuals on the 5.5'' HD+ display. This compact smartphone offers narrower borders to read, watch, and multitask comfortably with the split-screen feature.