TFMTXT2213DC_P#TFMTXT2213DCP
Moto G 5G
Moto G 5G
{{migration-desc}}
{{smartPay-price}}
price is #priceDollar dollar and #priceCent cents
Smart pay
Moto G 5G
Moto G 5G
{{migration-desc}}
Approved For {{smartPay-price}}/mo #term Monthly payments
price is #priceDollar dollar and #priceCent cents
Was priced at #listPriceDollar dollars and #listPriceCent cents now priced at #priceDollar dollars and #priceCent cents
Retail Price
This item is for pre-order only.
Ships by release date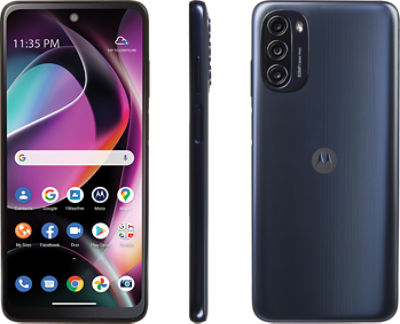 Wi-Fi 802.11 a/b/g/n/ac, dual-band | Wi-Fi Direct | hotspot

5G Connectivity (select areas/carriers/plans)

Bluetooth® 5.1, A2DP, LE

Battery Lithium-ion 5000 mAh non-removable | Fast charging 20W

Internal Memory - 64 GB | Micro SD Support - Up to 1TB
More Features
Free yourself from the power outlet. The massive 5000mAh battery keeps you working and playing for longer without worrying about running out of power.
Upgrade to superfast speed with the new moto g 5G. With lightning-fast 5G connectivity, you can can stream with virtually no buffering. And video chat without lag, so you feel like you're in the same room with family and friends.
Discover new ways to tell your story using the 50MP camera system with Dual Capture. Quad Pixel technology lets you take sharper, brighter photos in low-light settings. So you'll never miss that perfect shot, even in less than ideal lighting situations.
Bring games, movies, and video chats to life on a smooth, ultra-wide 6.5" 90Hz display. And, with up to 6GB of RAM, 3 enjoy smooth performance and fast responsiveness whether streaming, gaming, or chatting with friends.
It's never fun running out of space. Get plenty of room for photos, movies, songs, apps, and games with 64GB/256GB4 of storage—and add up to 1TB more with a microSD card.