TFMTXT2215DC_P#TFMTXT2215DCP
MOTO G STYLUS 5G
MOTO G STYLUS 5G
{{migration-desc}}
{{smartPay-price}}
price is #priceDollar dollar and #priceCent cents
Smart pay
MOTO G STYLUS 5G
MOTO G STYLUS 5G
{{migration-desc}}
Approved For {{smartPay-price}}/mo #term Monthly payments
price is #priceDollar dollar and #priceCent cents
Was priced at #listPriceDollar dollars and #listPriceCent cents now priced at #priceDollar dollars and #priceCent cents
Retail Price
This item is for pre-order only.
Ships by release date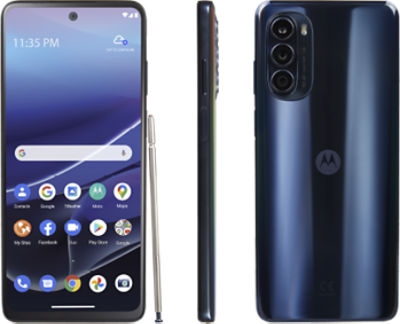 More Features
Write naturally, just like using pen and paper. Whether you're selecting text to compose an email or detailing edits on a photo, the built-in stylus delivers the exactness you need to create a seamless finished product. You can draw a picture with the stylus, then share a fully animated illustration on social media.
The 50MP main camera is equipped with Optical Image Stabilization (OIS), which automatically compensates against blurred images and videos due to unwanted camera movement. Use the 16MP front camera for crystal clear selfies and group shots.
You can take notes and watch your favorite show, all on the same screen. The 6.8" Max Vision FHD+ display with a 120Hz refresh rate virtually eliminates lag for smooth, seamless viewing. Plug in a pair of headphones and immerse yourself in the three-dimensional sound of Dolby Atmos®. Make your favorite movies sound richer and more natural.
Powered by the Qualcomm® Snapdragon® 695 5G processor, you get the speed you need to connect to blazing-fast 5G networks to stream movies, share content, and do all you want to do without breaking a sweat. With 128GB built-in, you have tons of room for your sketches, notes, photos, movies, music, and everything else.