Nokia G100
Nokia G100
{{migration-desc}}
{{smartPay-price}}
price is #priceDollar dollar and #priceCent cents
Smart pay
Nokia G100
Nokia G100
{{migration-desc}}
Approved For {{smartPay-price}}/mo #term Monthly payments
price is #priceDollar dollar and #priceCent cents
Was priced at #listPriceDollar dollars and #listPriceCent cents now priced at #priceDollar dollars and #priceCent cents
Retail Price
This item is for pre-order only.
Ships by release date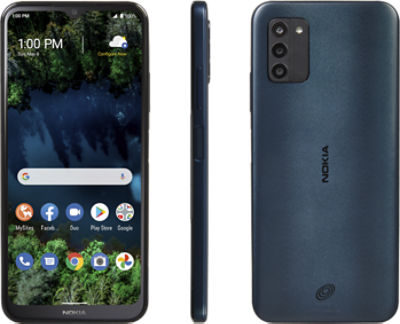 4G LTE/Wi-Fi® Connectivity

6.56 in x 3.02 in x 0.34 in | 166.7 x 76.62 x 8.79 mm

6.517'' HD+ LCD Display (720x1600) V-notch

14 hours(4G)/ 22 hours (3G)

Non-removable 5000mAh, QC2.0/PD2.0 with 15W fast charging

Qualcomm® Snapdragon™ 662 Mobile Platform, 4x A73 2.0GHz + 4x A53 1.8GHz

14 hours(4G)/ 22 hours (3G)

3GB | 32GB, expandable up to 512GB
More Features
The large 6.52" HD+ screen with edge-to-edge display and smoother graphics delivers a better viewing experience in more lighting environments.
See more of what you love with a large 5,000 mAh battery that lasts up to 2-days on a single charge.
The triple rear camera includes a 13MP primary, a 5MP ultra-wide and a 2MP depth lens. Each with enhanced AI powered night mode, for unreal shots, in more conditions.
Side-mounted fingerprint sensor and facial recognition gives you more ways for you – and only you - to unlock your phone.
Optimized with the latest Android 12 and a powerful octacore processor for a smoother, faster and more secure performance across all your apps.