TFSAS111DCR_P#TFSAS111DCR
Samsung Galaxy A01 - RECONDITIONED
Samsung Galaxy A01 - RECONDITIONED
{{migration-desc}}
{{smartPay-price}}
price is #priceDollar dollar and #priceCent cents
Samsung Galaxy A01 - RECONDITIONED
Samsung Galaxy A01 - RECONDITIONED
{{migration-desc}}
Approved For {{smartPay-price}}/mo #term Monthly payments
price is #priceDollar dollar and #priceCent cents
Was priced at #listPriceDollar dollars and #listPriceCent cents now priced at #priceDollar dollars and #priceCent cents
Retail Price
This item is for pre-order only.
Ships by release date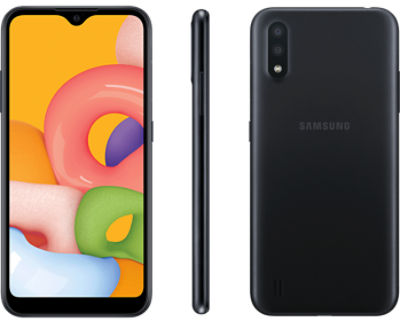 Phone Specifications
Wi-Fi: 802.11 a/b/g/n, 2.4 GHz + 5.0 GHz, USB 2.0, Bluetooth v4.2

5.80'' x 2.79'' x 0.33'' inches

5.7'' HD+ TFT LCD, 720 x 1520

13MP main camera, 2MP Depth camera

Non-removable Li-Ion 3000 mAh battery

Internal Memory 16GB Storage, 2GB RAM
More Features.
Capture sharp photos and shareable videos with this versatile 13MP dual camera.
Power through. Spend more time scrolling, texting and sharing, and less time looking for an outlet to charge. This long-lasting battery has the power to keep up with you.
An edge-to-edge 5.7'' Infinity V-display gives you plenty of room to scroll through your feeds, stream videos and more. Colors and details look bright and bold on its HD+ screen.
Save all the things that matter with 16GB of built-in memory. And if you need more, you can expand the storage to an incredible 512GB with a microSD card.