TFSAS102DCR_P#TFSAS102DCR
Samsung Galaxy A10e - RECONDITIONED
Samsung Galaxy A10e - RECONDITIONED
{{migration-desc}}
{{smartPay-price}}
price is #priceDollar dollar and #priceCent cents
Samsung Galaxy A10e - RECONDITIONED
Samsung Galaxy A10e - RECONDITIONED
{{migration-desc}}
Approved For {{smartPay-price}}/mo #term Monthly payments
price is #priceDollar dollar and #priceCent cents
Was priced at #listPriceDollar dollars and #listPriceCent cents now priced at #priceDollar dollars and #priceCent cents
Retail Price
This item is for pre-order only.
Ships by release date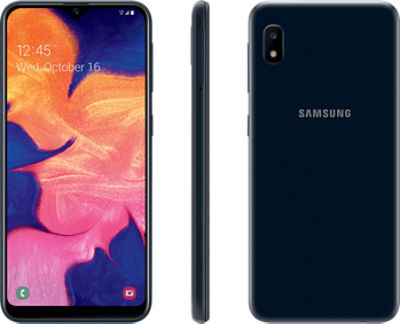 More Features.
Don't worry, keep it all: Keep more with 32GB of built-in memory, so you can keep all of your photos, shows, movies and apps, without having to delete to make room. If you need more storage, expand your memory up to 512GB with a microSD card and store up to 100,000 photos.
Capture the moment: The Galaxy A10e lets you make everyday moments special. Take crisp, clear photos with an 8MP rear camera and perfect selfies with the kids on a 5MP front camera.
Long-asting battery: With a long-lasting battery, the Galaxy A10e gives you more time to post, talk, text and share with friends and family.
Go edge-to-edge: Enjoy a bold, bright viewing experience on a 5.83'' screen. With an Infinity Display that goes edge-to-edge, you can see more story before you scroll.