TFSAS115DCR_P#TFSAS115DCR
Samsung Galaxy A11 - RECONDITIONED
Samsung Galaxy A11 - RECONDITIONED
{{migration-desc}}
{{smartPay-price}}
price is #priceDollar dollar and #priceCent cents
smart pay logo
Samsung Galaxy A11 - RECONDITIONED
Samsung Galaxy A11 - RECONDITIONED
{{migration-desc}}
Approved For {{smartPay-price}}/mo #term Monthly payments
price is #priceDollar dollar and #priceCent cents
Was priced at #listPriceDollar dollars and #listPriceCent cents now priced at #priceDollar dollars and #priceCent cents
Retail Price
This item is for pre-order only.
Ships by release date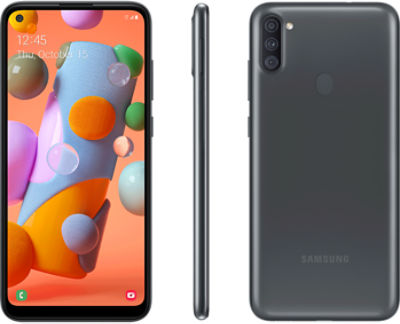 More Features
Spend more time scrolling, texting, and sharing, and less time looking for an outlet to charge. This long-lasting battery has the power to keep up with you.
Keep in touch with friends and family, and watch the news with plenty of room on a crystal clear 6.4" edge-to-edge display.
Capture shareable portraits, wide shots and videos with this versatile triple lens camera.
Keep all your photos and apps without worrying about storage. And get up to 512GB of storage with a microSD card (not included).