TFSAS205DC_P#TFSAS205DCWHP
{{migration-desc}}
{{smartPay-price}}
price is #priceDollar dollar and #priceCent cents
smart pay logo
{{migration-desc}}
Approved For {{smartPay-price}}/mo #term Monthly payments
price is #priceDollar dollar and #priceCent cents
Was priced at #listPriceDollar dollars and #listPriceCent cents now priced at #priceDollar dollars and #priceCent cents
Retail Price
This item is for pre-order only.
Ships by release date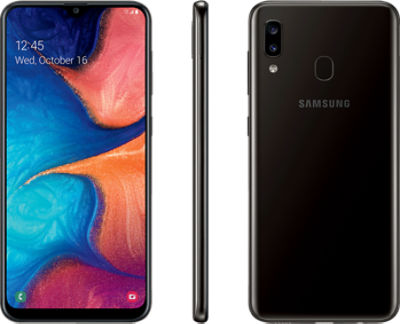 More Features.
Keep more - With 32GB of built-in memory, you can keep more of your photos, shows, movies and apps without having to delete to make room. If you need more space, expand your memory up
A camera for any occasion - Featuring a dual-lens, the Galaxy A20 is the only camera you'll need. Capture more of what you see in every shot, thanks to an ultra wide camera. Shoot scenic photos with a 13MP rear camera or take flattering selfies with an 8MP front camera.
Long lasting. Fast charging - With an extensive 4,000 mAh long-lasting battery, the Galaxy A20 keeps up with your fast paced life throughout the day and into the night. When you need a boost, power back up quickly with Fast Charging.
See more on an expansive screen - Upgrade your view with a brilliant 6.4'' Super AMOLED display. Plus, the large Infinity Display goes edge-to-edge, so you'll never miss anything.