Alcatel TCL 30 T
Alcatel TCL 30 T
{{migration-desc}}
{{smartPay-price}}
price is #priceDollar dollar and #priceCent cents
Smart pay
Alcatel TCL 30 T
Alcatel TCL 30 T
{{migration-desc}}
Approved For {{smartPay-price}}/mo #term Monthly payments
price is #priceDollar dollar and #priceCent cents
Was priced at #listPriceDollar dollars and #listPriceCent cents now priced at #priceDollar dollars and #priceCent cents
Retail Price
This item is for pre-order only.
Ships by release date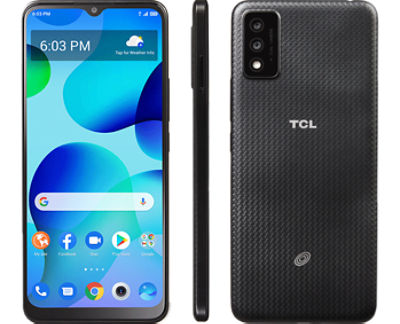 4G LTE/Wi-Fi® Connectivity

LTE Bands B2/B4/B5/B12/B13/B25/B2 6/B66/B71/B41(HPUE)

6.48'' x 2.95'' x 0.33'' | 164.7 x 75 x 8.5mm

6.52'' V-notch Display - Resolution 1600 x 720 HD+ Glass 2.5D

Up to 22.9 hrs. (4G) | Mixed Usage Up to 18.7 hrs.

Bluetooth® Wireless Technology v5.0

Included Battery - 4000mAhAh Lithium-ion | Charging Time Under 3hrs | Mixed Usage Up to 18.7 hrs.

Chipset MediaTek™6761 Speed & Type Up to 2.0GHz Quad-Core processor

Up to 22.9 hrs. (4G) | Mixed Usage Up to 18.7 hrs.

3GB RAM/32GB ROM | SD Support MicroSD up to 512 GB
More Features
Be stunned by the dazzling 6.52" HD+ display powered by NXTVISION®. Watch as videos, photos, and games come to life as real-time upscaling delivers striking true-to-life colors and HDR-level highlights; adaptive eye modes make watching, reading, and interacting a comfortable, strain-free experience.
Use the TCL 30 T to capture moments that matter. A 13MP main camera combines with a 2MP depth lens to create an artistic bokeh for striking portraits; stun friends and family in video chats with the 5MP front facing camera.
Be free from charging cables and being tethered to outlets with the TCL 30 T. A mighty 4000mAh battery keeps you connected and powered from work to late-night meetups, binge-watching, and scrolling while TCL Smart Manager extends battery life and maintains pinnacle performance.
Be unlimited with your enjoyment and experience. A responsive 2.0GHz quad-core processor combined with 3GB RAM delivers a harmonious user experience across the board. The expandable 32GB1 of internal storage allows you to save more of things you love and try out new apps.