Samsung Galaxy A23 5G
Samsung Galaxy A23 5G
{{migration-desc}}
{{smartPay-price}}
price is #priceDollar dollar and #priceCent cents
Smart pay
Samsung Galaxy A23 5G
Samsung Galaxy A23 5G
{{migration-desc}}
Approved For {{smartPay-price}}/mo #term Monthly payments
price is #priceDollar dollar and #priceCent cents
Was priced at #listPriceDollar dollars and #listPriceCent cents now priced at #priceDollar dollars and #priceCent cents
Retail Price
This item is for pre-order only.
Ships by release date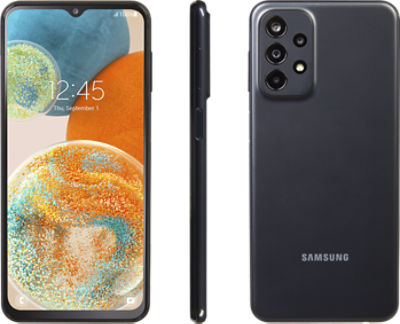 More Features
Catch even the finest details with the wide lens of Galaxy A23 5G. Take pro pics with Advanced Portrait Mode.
An adaptive refresh rate of up to 120Hz keeps every scene smooth and clear. Plus, the infinite display of Galaxy A23 5G turns mobile viewing into an edge-to-edge experience.
With a long-lasting, super-fast-charging battery, you can get more done without taking a break to charge.
Level up your mobile gaming speed with the fast,1 powerful processing of Galaxy A23 5G.
Galaxy A23 5G helps protect your data with multilayered security and the ability to privately share³ your files on your terms.
The expandable storage4 of Galaxy A23 5G helps you make the most out of a trip down memory lane.